THANH CONG TEXTILE GARMENT INVESTMENT TRADING JSC ERP PROJECT KICK – OFF MEETING
On November 21, 2022, Thanh Cong Textile Garment JSC and World Fashion Exchange Ltd. (WFX) held the Kick-Off Meeting to officially launch and deploy the ERP project. Participants of the meeting includes: WFX Company representatives, Thanh Cong Company leadership representatives, ERP project team and heads of departments.
Mr. Anupam Jaiswal – WFX Vice President Global Implementation, started the meeting by presenting an overview of project, including the scope of work and key milestones, stakeholders and their responsibilities definition. Additionally, as their fountain experience in successfully implemented ERP in Vietnam and around the world, WFX demonstrated their strong belief as a software partner, to support TC successfully implement its digitalization strategy and improve its corporate governance.
Joining at the meeting, Mr. Jung Sung Kwan – General Director of the company, project Executive Sponsor, emphasized the key factors in productivity and efficiency increasement is both employee competency and equipment/tools usage proficiency. To optimize the management and coordination, managers need to focus on understanding and together with their staffs in application and operation the ERP system in the most effective way.
Previously on September 12, 2022, Thanh Cong held the ERP Contract Signing Ceremony with the partner WFX. With the new ERP system implementation, paralleled with business process reengineering plan, Thanh Cong expect to catch up and adapt to the trend of digital transformation and standardization in production and business activities, meet the increasing requirements of customers, create competitive advantages compared with enterprises in the same industry, and towards the sustainable development.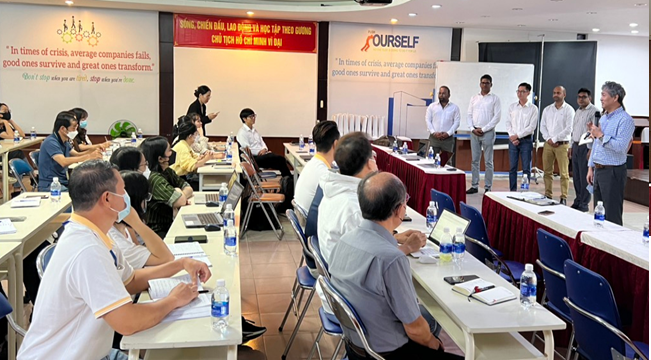 Photos at the ERP project Kick – Off Meeting