THANH CONG COMPANY ORGANIZED 2021 NEW YEAR LAUNCHING CEREMONY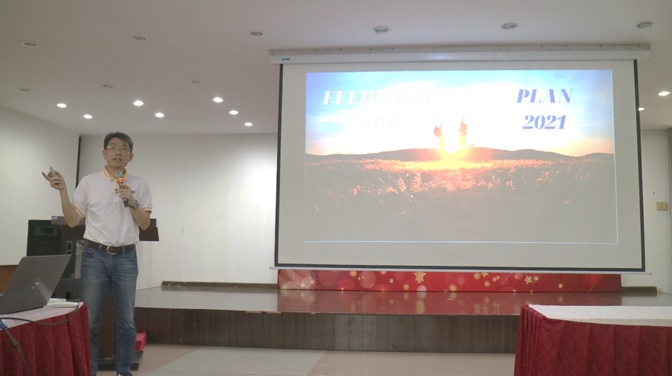 Date 04/01/2021
On January 4, 2021, Thanh Cong Textile Garment Company held the New Year Launch Ceremony with the participation of the leaders and the representatives of departments and employees of the Company.
Opening the ceremony, Mr. Tran Nhu Tung – Deputy General Director presented an overview of Vietnam and the global Textile garment industry market situation in 2020 and forecast for the coming years. Mr. Lee Eun Hong – General Director of the Company, on behalf of the Company leaders, said Happy New Year to all employees of the Company, as well as thanked and high appreciated the efforts of all employees of the Company in 2020, and at the same time shared business results in 2020, production and business plans of 2021 and the Company's strategies to achieve revenue target $ 300 million in the coming time. The General Director hopes that, in 2021, the collective of employees of the Company will continue to promote and make continuous efforts to achieve the set business results and realize the goals not only to become the good company but also towards the global and great company in the coming time.
Following the program, the representatives of sales teams, back office and production units reported on the 2021 production and business targets and action plans to achieve the targets of each department.
On this occasion, General Director had the speech to thank and high appreciate to Ms. Nguyen Thi Thuy – Ha Noi branch director who has worked long time and contributed to the development of the Company. At the ceremony, the Company had the decision to promote for 90 employees who had outstanding achievements and contributed to the development of the Company over the years, at the same time, awarding prizes to collectives and individuals who have made initiatives, improvements and actively contributed to the production and business activities of the Company in 2020.
In the 2020, although the Covid epidemic happened, affecting the global economy in general and the textile and garment industry in particular, but with the continuous efforts of the collective of employees of the Company, the business performance of the Company has achieved unexpected results. Besides, the Company also constantly implements CSR programs to contribute to the development of social community. Before the end of the ceremony, the leaders and employees together looked back CSR activities in 2020 through the CSR video presented at the ceremony and on this occasion, the Company also commended the volunteers for their contributions and actively participated in CSR activities for the community of the Company in the past 2020.